Prediction of Ischemic Stroke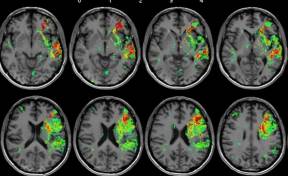 Domain Health and wellbeing
Technology Modeling, simulation and numerical engineering
Applications
Predicting the long term post-stroke cognitive impairment from the first few days following the insult.
In clinical routine, this tool is used by neuro-radiologists and neurologists to predict the overall cognitive evolution 3 months after the event, that can help to rapidly inform patients and their relatives and optimize patient care and management.
In clinical research, this tool can further be used to identify homogenous patient populations and improve the statistical power of trials aiming at testing neuroprotective strategies.
Description

Benefits
Value-added medical service: quicker treatment optimization thus resulting in an improvement of the likelihood of patient recovery.
Better patient management decreaseslower direct and indirect costsassociated with the recovery of the patient
Maturation
Maturation program with Aquitaine Science Transfert aims to improve the prediction tool, develop user interface and clinical validation on 200 patient in clinical area
Inventors
Thomas TOURDIAS
Fanny MUNSCH
Vincent DOUSSET
Neurocentre Magendie (U 862)
Igor SIBON
Aquitaine Institute for Cognitive and Integrative Neuroscience (INCIA, UMR 5287)
Paul PEREZ
Julien ASSELINEAU
Bordeaux Hospital University Center (CHU)
IP
Patent application : FR2015 /053480