SENSOR 4.O : Versatile Chemical Sensor System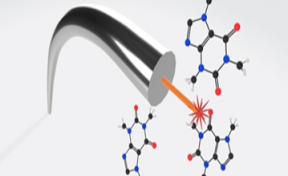 Domains Food
Health and wellbeing
Environenment
Energy
Technologies Sensors
Rapid diagnostic technologies (water, air, soil)
Application
Whether in liquid or gas media, the versatility of SENSOR 4.0 allows online process monitoring, contaminant or molecule of interest sensing , in many industrial sectors:
Food industry
Oil and gas
Biomedical / Pharmaceutical industry
Ecology & environment
Description
The sensor technology is based on a polymer cantilever micropatterned at the extremity of an optical fiber which allows high precision, selective, label free, and detection of a wide range of analytes The sensor provides a mass sensitivity of 2 Hz/ pg and a LOD of 10 ng/ml.

Receptor Element
Molecularly Imprinted Polymers
MIPs are biomimetic receptors capable of binding a target molecule with similar affinity and specificity to their natural counterparts
TRANSDUCER ELEMENT
Resonating polymer cantilever + Optical fiber
The target molecule changes the mass and varies the resonance frequency of the cantilever.
An optical signal is guided through the optical fiber and measures the frequency variation.
Advantages
In situ monitoring (results in realtime)
Multiplexing opportunity
Label free detection
Remote operation
Hundreds of analytes available to target

low molecular weight analytes
macromolecules such as proteins

Flexible use and integration in challenging environments
Easy system integration
Inventors
Frank BOKELOH, PhD
Karsten HAUPT, Prof
Cédric AYELA, PhD
IMS (Université de Bordeaux, CNRS, Bordeaux INP)
IP
Patent pending
Contact
Benoît SORE
%62%2e%73%6f%72%65%40%61%73%74%2d%69%6e%6e%6f%76%61%74%69%6f%6e%73%2e%63%6f%6d