VORTEX OPTIQUE: Wavelength-tunable Optical Vortex Generator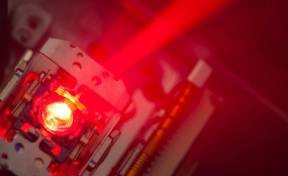 Domain Digital
Technology Sensors
Applications
There are a broad variety of applications of optical vortices in both classical and quantum optics, which cover for instance :
optical imaging (from optical nanoscopy to astronomical vortex coronagraphy),
optical communications and information,
optical processing of materials,
optical nano/micro-manipulation and basic research in optics and photonics.
Description
The invention proposes the manufacture of a wavelength tunable vortex generator capable to endow an incident light field with polarization-controlled optical phase singularities. The device is based a simple method and a new vortex generator
Benefits
A vortex beam can simply be generated by placing the vortex generator in the optical path of your light beam.
Works for all types of collimated light source and a wide range of wavelength (typically from UV to mid-infrared).
Simple and cost-effective manufacturing.
Inventors
Etienne BRASSELET
Laboratoire Ondes et Matière d'Aquitaine (LOMA, UMR 5796)
Contact
Matthieu AYFRE
%6d%2e%61%79%66%72%65%40%61%73%74%2d%69%6e%6e%6f%76%61%74%69%6f%6e%73%2e%63%6f%6d