IPREM : Institute of Analytical Sciences and Physico-Chemistry for Environment and Materials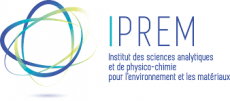 Domains Food
Health and wellbeing
Environenment
Habitat
Energy
Technologies Advanced and active materials
Green chemistry processes
Additive manufacturing
Processes relating to petroleum chemistry
Recycling of critical metals and rare-earths
Focuses of research & scientific skills
Development of new concepts, tools and methods of analysis, characterization and modeling (experience and theory).
Understanding the ecodynamics of contaminants, microorganisms and tracers including their interface with the living.
Synthesis and development of materials, physico-chemical characterization, study of their reactivity, understanding of the relation between their structure and their properties at several scales.
Specific equipment, resources and techniques
The UPPA-Tech instrumental service center has 17 specialized trays of which 5 are backed by the IPREM:
POLYCaTS: Physical and chemical characterization of polymers applied as well to the synthesis of polymers as to their implementation and their properties.
Microbiological characterization: Identification, Sequencing, microbial culture (aerobic, anaerobic, extreme environment), provision of a microbial strain bank of interest.
Characterization of surfaces and interfaces: Definition of physical and chemical properties of solid and viscous samples by spectroscopic and imaging methods.
I3: Characterization of nano-objects, analysis of highly sensitive metals by laser ablation and imaging of very small scale chemical elements (cells)
ECOMES: Characterization of biomolecules and nano-objects in biological matrices, environmental and materials
Technology transfer center
UT2A: Physico-chemical analyzes
UT2A Training and advice: Training in physico-chemical analysis
Collaborations
Research and development
Service provision
Consulting / Expertise / Training
Contact
Jacques SUSPERREGUI
Energy-Greentech business-unit manager
%6a%2e%73%75%73%70%65%72%72%65%67%75%69%40%61%73%74%2d%69%6e%6e%6f%76%61%74%69%6f%6e%73%2e%63%6f%6d
+33 (0)5 33 51 43 36
Identifier
UMR 5254