Treefrog Therapeutics, the cell therapy revolution for everyone!
Kevin Alessandri, normalien and doctor in physics and Maxime Feyeux, also normalien and doctor in neurobiology met after their thesis, in 2014 at the University of Geneva. They (already) have the idea of ​​creating a company around the industrialization of cell therapy. These aim to cure certain diseases by introducing new cells, derived from stem cells, into the body. The subject is important for a number of pathologies that have no truly effective remedy: Parkinson's, retinal degeneration, type 1 diabetes or even certain heart diseases. Read more...

Corlieve Therapeutics acquired by biotech uniQure: a successful transfer of French public research… valued at € 250 million!
As with any successful innovation, the therapeutic approach invented by Dr. Christophe Mulle, Director of Research at IINS (CNRS, University of Bordeaux) and Dr. Valérie Crépel, Director of Research at INMED (Inserm & Aix-Marseille University) starts from a proven medical need: the treatment of temporal lobe epilepsy (ELT) for patients refractory to known treatments.
From the EPIKAR project matured by SATT Aquitaine and Inserm Transfert to the creation of the deeptech start-up Corlieve Therapeutics, then to its takeover by biotech uniQure, discover the story of a successful transfer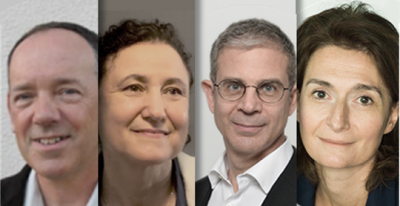 A new generation intra-oral protection available at Decathlon, an innovation resulting from Bordeaux public research!
Philippe Poisson, researcher at the HACS laboratory (Handicap Activity Cognition Health, University of Bordeaux / Inserm), teacher at the University of Bordeaux and hospital practitioner at the Bordeaux University Hospital, imagined the new generation mouthguard. More protective than consumer products but also more affordable than tailor-made models, this innovative protection has been marketed by Decathlon since 2019, it is the result of many years of research and has benefited from the support of SATT Aquitaine. Read more...