The national SATT network
SATTs in France
Within the framework of the Future Investments Program (Programme des Investissements d'Avenir, PIA) and the "Development" work of the "Centers of excellence" program, €900 million is set aside for maturation and proof of concept through the creation of technology transfer acceleration companies (SATT) across France.
SATTs are intended to bring together all university development teams and put an end to the fragmentation of institutions. Their goals are to improve the efficiency of technology transfer and increase the economic value created, to professionalize the development of research and to build skills.
Aquitaine Science Transfert® has been endowed with a potential of €45.6 million in equity and quasi-equity, and €2.4 million in grants awarded to partners over a ten-year period.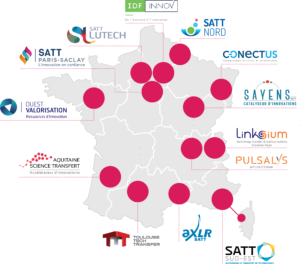 Le réseau SATT : un collectif pour dynamiser l'innovation industrielle
The national SATT network
Aquitaine Science Transfert® is a member of the SATT Network, the association that federates the 14 French SATTs. Created in 2014, the association aims to carry out joint actions to increase the effectiveness, clarity and visibility of SATTs.
Through its work, the SATT Network helps to:
Provide a common portfolio of technologies to be transferred.
Build partnerships.
Showcase shared values.
Implement shared communication.