LaTEP : Laboratory of Thermal Engineering, Energy and Processes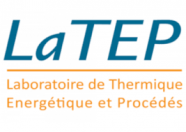 Domains Environenment
Energy
Technology Green chemistry processes
Focuses of research & scientific skills
Focuses of research
Processes for the environment

The treatment of air and gaseous effluents and particle transport
Waste recovery
Transport modeling and simulation in porous media
Energy 2O3

Energy storage and distribution
Analysis of energy systems
Reinforcement of processes
Scientific Skills
The scientific skills of the laboratory are based on experiments, modeling and simulation in:
The thermodynamics of fluids and energy systems.
Intensification of transfers and processes.
Specific equipment, resources and techniques
EQUIPMENT
The laboratory also has several equipment for the thermophysical characterization of materials:
Several Differential Scanning Calorimetry (DSC)
A thermogravimetric (TG) measuring device that can, if necessary, couple this measurement TG to a calorimetric measurement (DSC). Setsys CRYOSTAT from SETARAM operating over a temperature range from -150 ° C to 400 ° C.
A rheometer.
TECHNICAL PLATFORM
Innovative tool platform for the dewatering of sludge;
Tool platform for the characterization of the thermal treatment of waste and biomass and for the modeling of treatment reactors;
Tool platform for the characterization of salty waters;
CATHY Platform: Study and CAracTerization of gas HYdrates;
Solar platform and microcogeneration.
Collaborations
Research and development
Service provision
Consulting / Expertise / Training
Contact
Jacques SUSPERREGUI
Energy-Greentech business-unit manager
%6a%2e%73%75%73%70%65%72%72%65%67%75%69%40%61%73%74%2d%69%6e%6e%6f%76%61%74%69%6f%6e%73%2e%63%6f%6d
+33 (0)5 33 51 43 36
Identifier
EA 1932