HOBIT: Hybrid Optical Bench for Innovative Teaching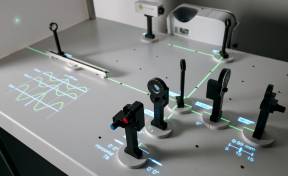 Domains Digital
Leisure & Culture
Technologies Cobotic and human increased
Immersive technologies
Applications
Hobit is an optical bench based on augmented reality :
Teaching for student in optic / photonic/ laser,
Training for teachers and professionals,
Teaching in enterprise,
Laboratory experimentation.
Description
HOBIT can be used for teaching Virtual Michelson Interferometer, nonlinear optics and spectroscopy,
This virtual-reality environment which replaces an optical bench mostly for students,
HOBIT helps student understand optics' phenomena,
It replaces real experiments in optics by simulated experiments based on augmented reality,
It allows to have a visual feedback on the experiment, and is easy to set-up and reboot.
Benefits
Low cost,
Safe for the users,
Quick and easy to install and reboot,
Students can be more autonomous.
Inventors
Lionel CANIONI
Bruno BOUSQUET
Center for Intense Lasers and Applications (CELIA, UMR 5107)
Martin HACHET
Laboratoire Bordelais de Recherche en Informatique (LaBRI, UMR 5800)
David FURIO
Jean-Paul GUILLET
Integration: from Material to Systems (IMS, UMR 5218)
IP
Patent application: WO 2017/001300 A1
Contact
Matthieu AYFRE
%6d%2e%61%79%66%72%65%40%61%73%74%2d%69%6e%6e%6f%76%61%74%69%6f%6e%73%2e%63%6f%6d