µ-NLO: versatile µ-imprinting process of second order non linear optical properties in glasses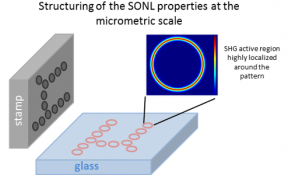 Domains Security
Habitat
Energy
Mobility
Digital
Technology Additive manufacturing
Applications
This versatile µ-imprinting process of second order Non Linear Optical (NLO) properties in glasses will find applications in :
Photonic integrated circuit (PIC)
Electro optic components
χ(2) Nonlinearity Conversion
Description
Our technology is an imprinting method allowing to structure, at multiple scales, the second order non linear (SONL) optical properties of amorphous materials.
The optical elements are formed directly on a wide variety of vitreous compositions and are capable of Second Harmonic Generation (SHG).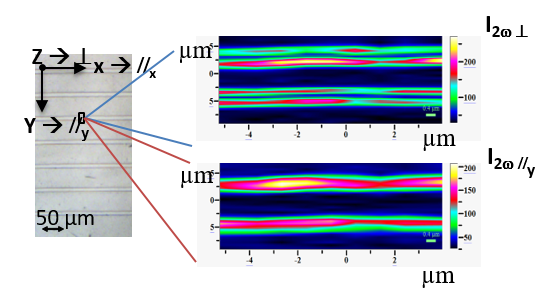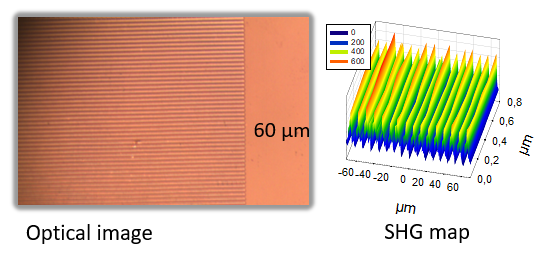 Micrometric localization of the electro-optical anisotropy / Periodical and long range χ(2) structuring : a SONL grating
Benefits
Large variety of micrometric structures (dots, squares, lines…), on demand.
Long range χ(2) structuring (cm²).
Large variety of glasses.
Inventors
Marc DUSSAUZE
Vincent RODRIGUEZ
Frédéric ADAMIETZ
Institute of Molecular Sciences (ISM, UMR 5255)
Thierry CARDINAL
Evelyne FARGIN
Institute for Solid State Chemistry Bordeaux (ICMCB, UPR 9048)
IP
Patent application: WO 2016/177818 A1
Contact
Matthieu Ayfre
%6d%2e%61%79%66%72%65%40%61%73%74%2d%69%6e%6e%6f%76%61%74%69%6f%6e%73%2e%63%6f%6d