Description
Pre-concentration of trace compounds contained in gases for quantitative and isotopic analyses. The invention applies when the gas is conditioned under high pressure. Thanks to a pressure balancing support the device makes it possible to use a sorbent tube which conventionally operates at atmospheric pressure.
Competitive advantages
COMGAZ simplifies and improves the current high pressure and low pressure procedures:
Improvement of detection limits compared to high-pressure sampling cylinders.
Simple to ship and operate at the industrial site, easy to send at the analysis site compare to cylinders-type or bubbling solutions.
Sampling procedure is several times faster than the ones commonly used.
End users
Operators of transport and gas storage infrastructures
Oil and gas industries
Biogas and bio methane producers
How it works
Pre-concentration on an adsorbent by circulation of gas under pressure.
Depressurization of the sample for transportation.
Sampling device usable with analytical equipment designed for atmospheric pressure.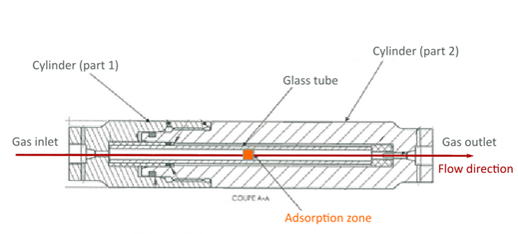 Technology maturity : TRL 5
A prototype has been realized and validated for mercury and BTEX (Benzene, Toluene, Ethylbenzene, Xylenes) in CH4 up to 100 bar.
We are looking for a partner to develop and commercialize this technology
Inventors
Hervé CARRIER
LFCR
Isabelle LE HECHO
IPREM
Jean-Luc DARIDON
LFCR
IP
Patent pending
Contact
Jacques SUSPERREGUI
%6a%2e%73%75%73%70%65%72%72%65%67%75%69%40%61%73%74%2d%69%6e%6e%6f%76%61%74%69%6f%6e%73%2e%63%6f%6d