VOLBRAIN : Automated MRI brain volumetry system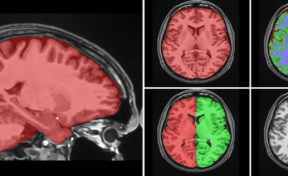 Domaine Santé et Bien-être
Technologies Technologies d'imagerie pour la santé
Exploitation numérique des données de santé
Applications
volBrain is a Magnetic Resonance Imagery (MRI) brain volumetry system.
It is intended to help specialists to obtain automatically volumetric brain information for their MRI data for any infrastructure in their local sites.
Description
volBrain is a workflow of algorithm aimed to automatically analyze MRI brain data. It's fully transparent for the practitian as it gets an anonymized MRI brain volume in NIFTI format and produces a pdf report with the volumes of the main IntraCranial Cavity tissues. It also provides volume information of some macroscopic areas such as brain hemispheres, cerebellum and brainstem. Finally, automatic subcortical structure segmentation is performed and related volumes and label maps are provided.
Benefits
Produce a complete reports on volumetry
Fully automatic
No human interaction
Volbrain has already been used more than 25 000 times by more than 1 000 users
Inventeurs
Pierrick COUPÉ
Laboratoire Bordelais de Recherche en Informatique (LaBRI,UMR 5800)
Jose Vincente MANJON HERRERA
Universitat Politècnica de València
Propriété intellectuelle
This technology is protected by a code deposit at the Program Protection Agency
Contact
Elodie DURU
%65%2e%64%75%72%75%40%61%73%74%2d%69%6e%6e%6f%76%61%74%69%6f%6e%2e%63%6f%6d