MICROLENS: New Versatile µ-Imprinting Process of Refractive Index Gradient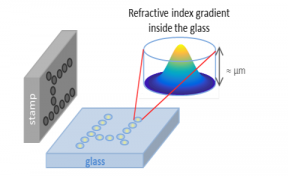 Domaines Santé et Bien-être
Energie
Numérique
Technologies Capteurs
Technologies d'imagerie pour la santé
Nanoélectronique
Applications
This technology is a new imprinting method allowing to manufacture micro-GRIN optics (micro-lenses, waveguides…) with unique properties useful in many fields as:
Infrared camera,
Microscopy,
Plenoptic camera,
Laser applications,
CMOS and CCD sensors,
Photovoltaic.
Description
The optical elements are directly formed on a wide variety of vitreous compositions to target transmission from visible to mid-IR spectral domain.

Specifications
Transmission window: visible or mid-IR (350 nm to 10 µm) depending on the glass composition
Large variety of structures (dots, squares, lines…) from 2 µm to 300 µm – on demand.
Glass

Array surface (mm²)

Micro-lense diameter (µm)

Micro-lense focal length (µm)

Transmission window

BPN

0.5

2 - 7

5 - 15

Visible
(350nm – 2µm)

Soda-lime

1 - 100

5 - 40

15 - 1000

Visible
(400nm - 2.5µm)

Chalcogenide

1 - 30

15 - 40

20 - 1000

IR
(700nm – 10µm)
Inventeurs
Marc DUSSAUZE
Institute of Molecular Sciences (ISM, UMR 5255)
Propriété intellectuelle
This technology is the subject of a European patent application
Contact
Matthieu AYFRE
%6d%2e%61%79%66%72%65%40%61%73%74%2d%69%6e%6e%6f%76%61%74%69%6f%6e%73%2e%63%6f%6d